About Altra Foot-Shaped Shoes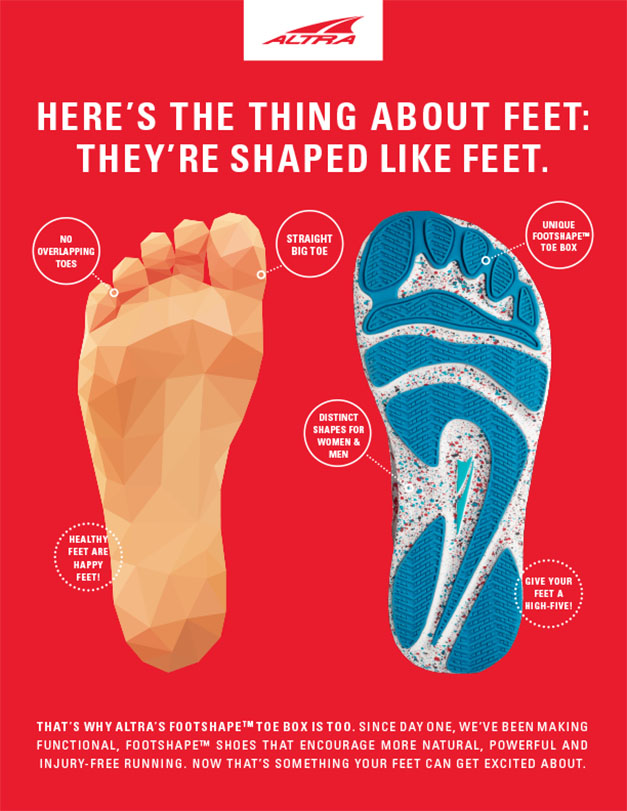 About Altra Shoes Technology:
Altra Footshape™ Toe Box
Reduces overpronation and enhances stability for all-around comfort. Gives the big toe space for a more powerful toe-off.
Altra Balanced Cushioning™
Promotes upright posture for natural body alignment. Provides a level platform for support, balance, and protective cushioning.
Altra Fit4Her™ Technology
Altra's Fit4Her™ technology caters to the specific form of the female foot, which has a narrower heel and midfoot, a higher instep, a longer arch and unique metatarsal spacing. This provides a true gender specific fit for enhanced performance.
Altra Footpod Technology
Outsole technology that actually maps the bones and tendons of your foot to help it bend and move naturally.
Altra Ego™
The Altra Ego™ midsole compound was developed to have a dual-natured performance: Responsive, yet soft feel with increased energy return (high marks in lab testing). This innovative compound can be found in popular styles including Altra Escalante and Altra Paradigm.
Altra Quantic™
Quanti™ was inspired by a desire to combine the plush feel of Altra Ego™ with a lighter weight ride. It comes from the mathematical term quantic which refers to two different variables working together. This compound can be found in speedy styles such as the Altra Torin.
Altra Innerflex™
Grid-like grooves in the midsole allow your foot to flex while also being lighter, encouraging better speed and better performance.
Altra InnovArch™
Altra's innovative dynamic support feature, InnovArch&trade:, inspires a connection between body and mind through the foot, resulting in a heightened awareness that encourages a better step cycle. InnovArch™, found only in the Altra Provision, is a completely new way of offering support only when you need it. Both stability shoe runners and even neutral runners will love this fresh approach to guided, natural foot movement.
Altra Stabilipod
Acts as a stabilizing tripod by enhancing the three natural stability zones in your foot to help prevent excessive foot collapse or pronation.
Altra Guide Rail
Acts like a supportive highway guide rail to provide guidance only when you need it.